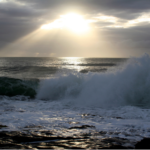 This (the dot sequence) means Hi. In code. A wave across the waters. I've waited in silence for something pithy and meaningful to say, something that wouldn't get too tangled up in the outer chaos of our time. I've been inspired by hi-signs coming through electronic channels I've let stay open – photos of Nature and art, tales of celebrations, poetry – and thus my own silence, my lack of offerings while happily swamped by large-scale work-in-progress, began to feel uncomfortable.
When I started thinking about signaling a song out to the world, one of the images that tried to become its own posted piece was about that guy who conducts global choruses via the web, with people singing in isolation, joined through the internet (also shown in a TED talk with beautiful lyrics scrolling across the screen).
So I thought I'd pass it along, accompanied by a link to the famous Princeton research about how the atmosphere's vibration is affected by people's felt-sense about events, plus HeartMath's program about global coherence – interweaving Earth's magnetic field with living creatures and the Sun (just in time for Solstice: 9:24 pm PDT on June 20). Related to this is an even larger universe of emerging insight into the ways environments evolve in response to the activities of their participants – notably in butterfly ways: each wing-flap altering worlds.
So for anyone out there who may feel disheartened about trying to make a contribution to our world, I'm sending out a flashing light that says you've encountered one more human who genuinely believes that every signal of goodwill matters, no matter how infinitesimally small it may feel at the apparent origin point. You'll of course connect all the dots you collect into your own musically vibrating constellation. May it sing good songs to you. Let's keep singing good songs to each other, in waves across the waters.
Photo credit: Matthew Bowden via stockxchange